RoboForex Botswana Review
RoboForex broker Botswana review
Are you looking for the experience of online broker RoboForex? – Then you're right on this page. The provider has been extensively tested and users will be presented with the results in the following texts. Learn more about online trading terms and opportunities at RoboForex. Is this a serious provider and should you really invest money there? – Tell yourself now.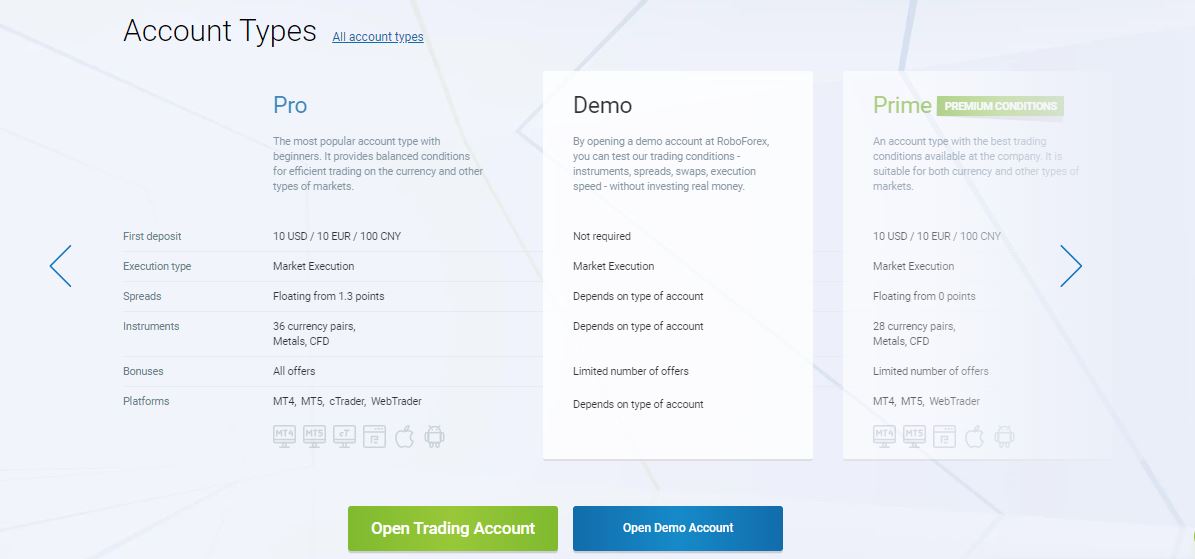 What is RoboForex? – The broker presented
RoboForex is an international broker that deals in all types of financial products (over 12,000 markets). The company was founded in 2009. It has a great history. RoboForex Limited has a special brokerage license under IFSC000138 / 107TS number IFSC Belize "Trading in Financial and Commodity-Based Derivative Instruments and Other Securities". 2118 Guava Street, Belama Phase 1, and Belize City address.
The online broker RoboForex is headquartered in Belize and is regulated more than once (more on that later). According to the website, it is a fast expanding company with over 900,000 subscribers worldwide. In addition, it has received multiple awards since 2009 and official sponsorship like kickboxing world champion Andrei Culbin.
It looks like a very diverse broker, as the offer of over 7 asset classes and 12,000 markets is irresistible. Also, the terms of the traders look very impressive to us.
Minimum Deposit $10
MT4,MT5,cTrader
Regulators: FSC, Belize
Negative balance Protection
120% First Time Deposit Bonus
RoboForex regulation and safety of customer funds
Here, Regulations and licenses are essential in online trading platforms. A trusted forex broker must have license from an official/government regulator. This creates trust in the customer. In addition, the broker must meet certain criteria and operate to obtain such a license. Violation of the rules means immediate loss of license. Therefore, cheating with regulated brokers is almost not possible.
As described above, RoboForex broker is regulated and licensed. The broker has a brokerage license to trade financial derivative instruments and securities numbered IFSC 000138/107 TS from the IFSC of Belize. In addition, Roboforex is regulated by TFC with "Category A". It is an international license based in England and Hong Kong. This commission offers neutral arbitration and insurance coverage up to 20,000 euros in the event of an unforeseen bankruptcy of the company. TFC trading reviews order execution, trading platforms, and other features of the broker.
The security of consumer funds should not be forgotten. The company strictly separates its funds from the client funds of large international and liquid banks. In addition, there are no additional funds and the account is protected from negative balances.

Regulated by the IFSC in Belize
Regulated by the Financial Commission Category A
Coverage up to 20,000€
Negative balance protection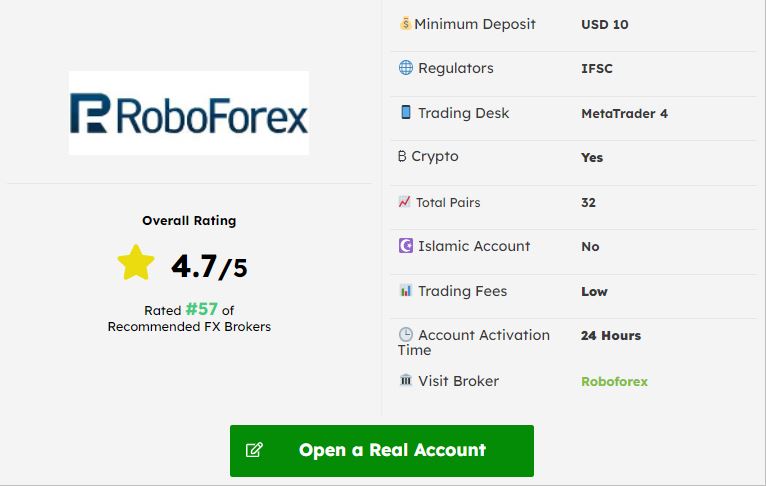 Negative balance protection at RoboForex
As mentioned above, RoboForex has negative balance protection. Although the trading broker is not regulated within the EU, it guarantees protection to its clients from negative account balances. Since leverage can be very high in RoboForex, it is possible to open large positions at small margins. In case of gaps or extreme volatility, market risk can lead to higher losses. RoboForex will remove you from all positions in advance if you have a very small margin.
Fast execution of trades verified
The Financial Commission is not just an independent regulator. It also observes the death penalty for brokers. More than 5,000 orders are analyzed to execute each month. RoboForex also has a Verify My Trade Certificate and publicly advertises it. From my personal experience with this trading broker, I can be sure that execution is very fast and reliable. Even with high volume, users can rely on RoboForex.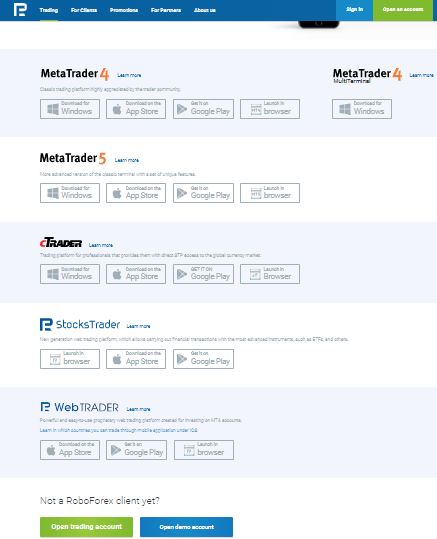 Review of the trading conditions for traders
There are over 12,000 financial products and 7 asset class brokers in the portfolio. This leaves us with the first good impression because only a few brokers in this category offer such a wide range. Moreover, with 6 trading platforms, brokers are also very wide.
RoboForex offers a variety of customized account models at the trader's request (read later on this page). With higher deposits (€ 5,000) you can, for example, get cheaper fees when trading in a prime account. Coins of 7 different accounts are available. Another great advantage is creating an account and creating multiple trading accounts within it. Fund transfer is very easy.
In our experience, execution of many asset orders is very fast. Liquidity is always given, so opening big positions is not a problem. Trading costs are quite low and competition stings. For example, trade Forex from 0.0 pip spread. Trading fees always deviate from the type of account. Maximum 1: 2000 leverage is extremely high but can be adjusted independently.
In short, trading fees and costs are lower than other providers. Also, RoboForex scores with free and automatic cash withdrawals. From my experience, this broker is one of the best offers for private traders.
Trade 40 different currency pairs from 0.0 pip spread on RoboForex. Leverage can be a maximum of 1: 2000. However, it should be noted that this high leverage is not available in every account model. Users can set leverage manually when opening an account. Commissions start at $ 3 per 1 lot traded in the best account model. However, for this you will need a higher deposit. Trading fees may be higher for lower deposits.
RoboForex offers stock trading via CFD with leverage up to 1:20 and through real exchange execution without leverage. More than 12,000 shares are available at RoboForex. Therefore, you will find a very wide selection in this broker. Available in a total of 3,000 real stocks and 8,400 CFD stocks. With CFD, you can easily get smaller. Spreads are also very famous and start from just 1 cent. Minimum Commission Minimum 0.25 USD per trade high. Another advantage is that users can trade the stock 24/7.
Indices are very popular with most traders. For example, RoboForex offers a very low spread of 0.5 points on Dax. Commissions start at $ 4 depending on the type of account. In total, more than 10 indices from around the world are offered.
An ETF is an exchange-traded asset that covers a variety of markets. If users buy an ETF, it will invest in the underlying assets. RoboForex offers over 1,000 ETFs for Trading. Buy real ETFs or transact them via CFD with leverage up to 1:20. Spreads start at 0.0 pips and have a minimum commission of 0.25 USD per trade.
Of course, you can trade metals at RoboForex. This segment offers more than 20 different markets. Here too the fee is very low. Trade gold, silver, copper, and more.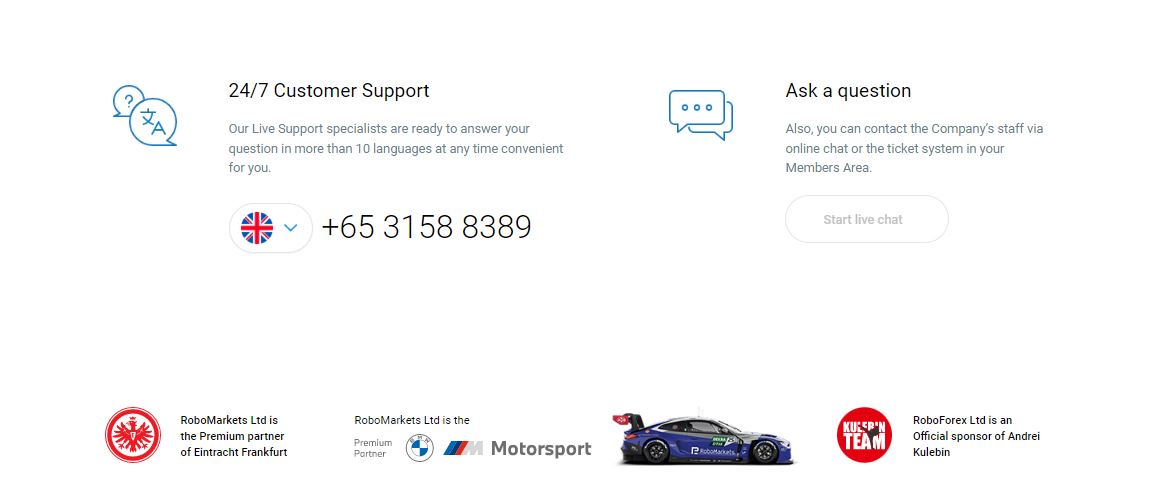 Now, products are available with leverage up to 1:20. There are even more than 100 ETFs on agricultural products. This requires a minimum deposit of 100 100. Spreads start as low as 0.01 in wheat, for example. RoboForex also has a great offer here.
The best conditions for traders:
Spreads from 0.0 pip and 6 different account models
No fees on deposit and withdrawal
Trade more than 12,000 products in 7 asset classes (stocks, forex, commodities, CFDs, and more)
There is an own social trading platform
Maximum leverage 1: 2000
Protection against the negative account balance
Scalping and Expert Advisors are allowed
Bonus program
Review of the trading platforms of RoboForex
A total of 5 different trading platforms based on MetaTrader are offered for Trading. The right app is also available for smartphones and tablets. However, it is essential to know that not all financial products can be traded on trading platforms. For example, there is a special trading platform for shares (RTrader).
Roboforex offers the world's most popular MetaTrader 4 and 5 versions. Private traders have used this platform for many years and many more. You have lots of hiring options out there and you can develop your Trading freely. Adapt the platform to your strategy. Algo trading and automated robots can be used here.
A multitarminal is offered for better adaptation. It allows you to monitor all trading accounts and manage professional risk management.
Trading platforms offer many options for universal charting and technical analysis. Use the indicators, drawing tools and chart plots to follow successful trading strategies.Benefit from quick order execution and deep pool liquidity.
These platforms are available:
Metatrader 4 (Forex and CFDs)
Metatrader 5 (Forex and CFDs)
cTrader (Direct STP for Forex Trading)
R Trader (Stock Trading)
RoboForex Terminals (Mobile Trading)
MetaTrader 4 and MetaTrader 5
MetaTrader 4/5 (pictured above) RoboForex is best suited for private traders to trade in the market. Users can use this software for desktop, web browsers and mobile devices. You only need one access for this.
MetaTrader helps automated Trading. Users can use an "expert advisor" and run the strategies automatically Extensive charting features are offered. Use multi-charting, indexing and drawing tools. With MetaTrader, you can design Trading according to your ideas.
Another advantage of the software is that users can add tools and plugins. MetaTrader is a basic structure and can be further expanded. In addition to many setting options, professional portfolio management is also possible. From my experience, users should use this platform to trade on RoboForex.
cTrader is similar to MetaTrader 4/5 but gives the trader more advantage in scalping (short term trading). In cTrader, you get more accurate insights into market liquidity and order flow. Also, this software is very user-friendly, available for any device. Depending on users needs, this software may be a better choice.
RoboForex only offers cTrader with a demo account, ECN account or pro-account. With it, you get the fastest performance with high liquidity.
RoboForex's RTrader is suitable for trading all proposed assets. Only with RTrader, you can trade real stock and ETF. More than 12,000 instruments are available on this trading platform. RTrader is completely free and provides you universal charting like MetaTrader and cTrader.
RTrader Level 2 offers market depth and even time and sales for order flow. Through this a complete analysis is possible. Automated online Trading is also supported. There is a construction kit for online trading robots. From my experience, RTrader has advanced portfolio management with multiple analysis options. This platform is truly universal and has the most features.
ECN and STP Trading Accounts
ECN / STP is direct entry into the foreign exchange market through banks or liquidity providers. There is no conflict of interest between brokers and users. In addition, the fees are extremely low. RoboForex provides  ECN or STP access depending on the type of account. Brokers can also buy real shares because the company has direct access to the stock market. RoboForex eliminates fraud as opposed to a market maker and earns 100% of the broker only through trading fees.
Mobile Trading for any device
In the age of digitalization, mobile trading is becoming increasingly important. Users also want to be able to trade the market from Unterwegs. With the Roboforex app, you can easily open and close positions with your smartphone or tablet. Apps are available for Android and iOS. Mobile trading completes the broker's portfolio and this is another plus.
Professional charting and analysis with RoboForex
Technical analysis is the most successful and popular method of trading the market. Here, you need a lot of different tools to do it. Trading platforms initially bring an additional supply of indicators, drawing tools and settings. Use candlestick displays for advanced analysis. Thanks to candlesticks, you can see, for example, high, low, opening and closing prices within a certain period of time.
The platforms are so flexible that it is possible to analyze each time unit. Some technical analysis drawing tools available (horizontal, vertical, and trend lines). Even user-defined indicators can be downloaded from the Internet or programmed by yourself and integrated into trading platforms.
Indicators
Technical drawing tools
Different charts
Automatic Trading
Social Trading
CopyFX for traders is a good opportunity
Also, the copy trading is offered on RoboForex. This is a rare occurrence for Forex and CFD brokers these days. With the CopyFX platform, you can access thousands of different traders. The minimum investment here is 100. Either you copy other traders or you copy yourself. If you sign up as a trader you can get high extra commission.
The advantage of this platform is the proper transparency of the participants. Discover which trader performs best and evaluate the risk. You always have complete control over your accounts and deposits.
RoboForex social Trading:
Full control of your money
Copy other users for free
Registers as a trader and earn additional money
Easy and fast account opening with RoboForex
Account opening is complicated and fast. First, create your account with a variety of personal information. You will then have access to the customer area (pictured below). Next, you can manage your account in the client area and then create various other trading accounts.
RoboForex provides an unlimited and free demo account for each user. You can always create a new demo account in the customer area like a live account. Another issue is verification. Brokers can only fund verified clients. Therefore, we recommend verifying the account before capitalizing. After that, you can use all the functions. Verification takes only a several hours and is done with passport upload and proof of residency.
Which account type I should choose? – There is a huge diversity
As already mentioned in the article above, there are more than 6 different account models as per the wishes of the trader. This is another big plus for RoboForex, as the selection allows traders to optimize their online trading. However, it should be noted that not every financial product, such as cryptocurrency, is available in every account. So before opening an account, it is important to look at the model of the account
Review of the deposit and withdrawal proof on RoboForex
There are more than 20 methods available for deposit and withdrawal. Capitalization of the account should not be a problem. Deposits and withdrawals are completely free! For those who are not satisfied, Roboforex also provides automatic instant payments. In minimum 60 seconds, the application is processed and released. The broker has 24/7 access to your capital.
Use credit cards, bank transfers, transfers, and e-wallets (Neteller, Skrill, etc.) to capitalize on trading accounts. Also, RoboForex has a wallet with which you can save money or make transactions. The transaction is very safe and pleasant. There are no hidden costs.
These payment methods are available
Online banking
Credit Cards (VISA, Master Card)
Bank wire
E-Wallets (Skrill, Neteller, ePayments)
WebMoney
Some deposit and withdrawal methods depend on your country of residence
Some users claim that Forex Brokers do not pay out their earnings. In the following picture, we will show them their withdrawal proof with two several payment methods. There is no problem with withdrawing money at RoboForex.
RoboForex Bonus Program and special conditions
As one of the few brokers, Roboforex offers a comprehensive bonus program, which we will explain to you in the following text. The chances of getting extra income or free gifts from the broker are very high. This is true for small accounts as well as large accounts. But first you have to remember, the higher your trading volume, the higher the bonus. This is because Roboforex wants to encourage clients to trade more and invest more money.
Of course, the more brokers you have, the more money you will make. This is because he shares a portion of the earned money with you in the bonus program. Check out the different bonuses:
Get an extra capital when depositing. This can be up to 120% depending on the deposit amount. Example: With a 100% bonus on a $ 5000 deposit you will receive an additional 000 5000 capital. Your balance is then 10,000. This allows you to trade with high risk and high position in the market.
Bonus must be conditional. You cannot pay the full bonus before reaching a trading volume. Example: With a bonus of 5000 usd you have to trade a total of 5000 lots to pay out the bonus ultimately. Although this is a very high sum, in the long run, most users manage it. The bonus can be deactivated at any time and the users can even have their winnings paid off.
Withdrawal your earnings and profit
Up to 120% bonus of your deposit
You can deactivate the bonus any time
Bonus number of required lots for the trading volume to be converted
Another great bonus is RoboForex's cashback program; the broker shares the revenue (on the spread) with users. Traders will be charged an additional fee depending on their trading volume. Get back up to 15% of your spread spread. Cashback is then payable at any time and is applicable to all types of accounts.
Up to 10 percent additional money on your account
Roboforex tries to protect its users against inflation and can give you an additional return of up to 10% per year. For this purpose, however, a certain amount of trade must be applied to the account again. After that, the extra money can be withdrawn from the account or used for subsequent trading activities.
VIP Trader with RoboForex
Become a VIP and get extra bonus from RoboForex. VIP status depends on the amount paid in your account. After you make a deposit you will receive an automatic email that you have joined the VIP program. VIP customers can expect higher Cashback and possibly higher returns on the account (see picture below). Also, a VIP manager will be offered for you. Also, you can rent a cheap VPS server to get better access to the market.
RoboForex supports trading with automated Robo systems. VPS (Virtual Private Server), which runs 24 hours a day, is suitable. The VPS server can be provides free of charge to the client. However, the following criteria must be met:
At least 300 USD capital available on the account
Minimal deposit 500 USD
At least 3 transactions with 3 lots trading volume
VPS must be requested in the traders area. However, it can be rejected by RoboForex. It is an additional service that many users appreciate. Thus, the fee for the server is omitted. VPS has the following conditions:
Intel Xeon E5
Windows Server 2008 R2 64-Bit
1GB Ram
30GB SSD
RDP, VNC access
Customer support and service review for traders
Support for traders is available in over 10 languages ​​via phone, email, WhatsApp, chat, etc. It works 24 hours a day (24/7) for RoboForex customers, as some markets are open 24/7 (such as cryptocurrency). Use different communication options if you have any questions.
International support is also given because RoboForex Group operates through various branches worldwide. You can also reach out to multilingual employees by telephone, who have enjoyed a good education and have helped you directly (we tested ourselves). In short, support for international customers is excellent and fast. We did not notice any negative things.
There is a training and learning center for beginners. There you can watch the exact video about the operation of the trading platform. If users have further questions, you can join the RoboForex forum. Exchange directly with other traders and develop general strategies. In addition, the broker provides daily analysis and webinars. There is a comprehensive service for online  traders here.
RoboForex allows international clients (India, Africa, Asia, Indonesia, Europe, and more)
24/7 support in different languages
Phone, Email, Chat
International support
Webinars and VIP Managers
Conclusion: Is RoboForex the best Forex Broker?
RoboForex gets very good ratings from us on this page. This is because we tested the provider extensively with real money and were surprised by the good condition.
With a large selection of products and online trading platforms, providers are well positioned for online Trading and different from most competitors. Trading fees are meager and you get quick and direct execution. Also, the bonus option is highly recommended and can generate extra income for you.
Traders can recommend the provider since no fraud has been noticed. In addition, regulations, licenses, and sponsorships make the broker a trusted partner.
Bonus Programm
A regulated and reliable company
A huge range of markets and assets (More than 12,000)
International clients are accepted
High leverage is possible (1:2000)
Free Demo Account
Start with a small amount of money
Low spreads and commission
Professional Support